Poedia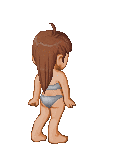 Registered: 12/19/2012
Gender: Female
Birthday: 04/29/1993
About
19 / Female / Iowa



Hello and Welcome.
It would seem you've stumbled upon my Profile.

My name is Juliet.
You may call something else for short if you'd like.
Such as Juli, maybe.

Thank you for making the trip here.
If you want to chat with me or anything ...
Feel free to send me a Friend Request or a PM.

Alrighty ?
♥