Pixel Smut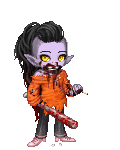 Last Login: 01/18/2014 5:52 pm
Registered: 07/15/2006
Gender: Male
Location: PB WV
Equipped List
No items equipped.
Interest Tags
Favorite Movies/Anime
Favorite TV Shows
Favorite Reads
Favorite Music/Bands
Hobbies/Interests
Wish List
About
Hai! I'm Devlin, Nice to Meetchu. I like things, expensive things on here, an Im a shopaholic. :3 I luvvvv signs, and arts. *Hint*Hint*. And Iv been on Gaia for 7 or 8 years total now, four on this avi. Dont be shy pweaze.



Go GD!
Journal
Journal