Pinny Nickels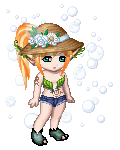 About
If you think I seemed interesting, then you are correct.


I like to gather a lot of random knowledge, and then...
do nothing with it
apparently.

I hope everything will come together one day though. The fabricated systems of intellectual acknowledgement are opposed to the way my brain works. I don't give up though.

I have somewhat recently become obsessed with astrology. I am disgusted by pop cultures simplification of it though, and if you are naive enough to believe Cosmo's take on astrology, yet irritable enough to insult it, then I think your brain is as valuable as jello splattered across cement. But maybe you like jello enough to lick it off.

I've had various reputations on the GD. If you thought I was someone in particular, then I must warn you that I am elusive. You can't really expect me to behave in any certain way. I change a lot, I have a sense of humor, I get angry and usually express my anger through my insensitive sense of humor... I do care about others though. I will never take any of your faults too seriously.
Friends
Viewing 12 of 84 friends
Journal
Journal
Journal
Journal
Multimedia
Signature