Pinky_Petals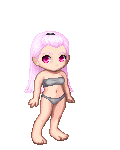 Last Login: 11/13/2011 2:03 pm
Gender: Female
Birthday: 07/15
Equipped List
No items equipped.
Interest Tags
Favorite Movies/Anime
Favorite Reads
Favorite Music/Bands
Hobbies/Interests
Wish List
About
Name: John
Gender: male
location: California

About:

I am a person who prefers peace i hate blood goring movies.
I love animals, yet I'm have allergic reactions with cats.
I have a pet guinea pig and planning on getting a puppy.
I'm am Asian American ( born in america decedent from Taiwan )
I love to draw, but not so good.
I write song sometimes.

Question for friends:
should i post most of my good gaia friends on my account


Journal
My heart journal
The journal is used to describe your life events love and secrets that may be reveled.
Signature
questing dark halo 36.5/200k

Please donate very happy

Donors:
Bear Simplicity - 100 gold thank you ^.^
F L U F F Y McQueen - 2k ^o^
x_Pez2_x - 25k AHHHHAHAHAH ayayayayay