ASDF. SHE'S HERE.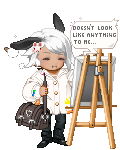 Gender: Female
Location: Picktown
Occupation: Varied skills kid
Wearing...
Things I Like
Favorite Movies/Anime
Favorite TV Shows
Favorite Reads
Favorite Music/Bands
Hobbies/Interests
Gifts, please?
...Who?
Hello.

I'm Jasmine. I see you are reading my profile.
Personal Stuff.

Born: March 11, 19xx
Western Zodiac sign: Pisces (Go Pisces Aphrodite!!)
Eastern Zodiac: Pig (Yeyz.

)

Things I like.

- Sonic the Hedgehog (He's my inspiration and greatest hero

and YES I know he's been failing... It's just that I can't completely HATE him)
- Saint Seiya
- Good food.

That includes good candy.
- Drawing (I'm pretty good, but not the best.)
- Writing (I'm also good at that, but personally, I should be getting more reviews.)
- Video Games
- Being with friends
- Learning (I know, STFU!)
- Music
- Playing music (I play the viola, piano, and guitar)
- Cartoon Network Fusion Fall (Albedo x Bubbles has gotten into me...)

Things I

don't

like.

- Clique anime styles. NO WE DON'T WANT YOUR SHITTY ******** KAWAII DESU ANIMUUU. Yes, I called your precious anime "shitty."
- Mean people (I don't

hate

them, I just get annoyed.)
- Sad moments (WHY DID YOU KILL SHAKA???)
- Bitter food
- Unwanted spoilers
- Pointless manga/cartoons/video games
- An idea used over and over again.
- Leaks. (Sinks, cups, pants)
- Boring songs
- Lecture notes in Social Studies
-Haruhi Suzifaskfhalskfjlasfjkl WTF SERIOUSLY PEOPLE
Other things about me.
I do art trades/requests. Please contact me via PM or deviantart!
Journal of Me
JR's News
Screw, I'm gonna write here about things you should know about me.
Signature
Jabu approves of this message.