Pinkchi-chan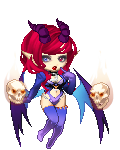 Details
Birthday

08/11
---
Interests
Favorite Movies/Anime
Favorite TV Shows
Favorite Reads
About
Hey you!
I'm Pinkchi-chan
My name is Danielle. I'm 24!

I'm friendly, little shy, bit of a nerd.
I will doubtfully grow up any time soon.
I love talking/meeting new people, the majority of my friends when I was in my teenage years were all met online, and mainly through Gaia.

♥ Silent hill
♥ Sailor Moon
♥ The Sims
♥ Hello Kitty

I'm a gamer & I likes the Anime & Manga.
I love to draw, I can do traditional or digital and my style is mainly anime.


I also do personal logos for people as well.



I love art!
On a 200 art quest.
Currently at 95.

My DeviantArt

MY GAIA HISTORY
I've been on Gaia since 28/09/2005, my original account was Pink-chi.
But I was hacked and banned on 28th October 2008.


So now I am Pinkchi-chan

My avatar art shop (:




Donators


Sivana - Doll ears!
Robodream - Devoted Pawn
Techie Creek - Wench's Cincher
stamp collector - Radioactive Green Raving Goggles
Laydee Kaye – 20K
From "An anonymous benefactor" Gaia tells me:
Memphis' Wing Bra, GO Player, Orchid Headphones, Pink Sweetheart Teddy, Blue Sweetheart Teddy.
krazyblades - Princess of the World

Donations are

hugely

appreciated.

~~~~~~~~~~~

Friends
Viewing 12 of 32 friends
Journal
Pink-chi will live forever as Pinkchi-chan
I once was Pink-chi but due to a hacker, I had to make a new account. Pinkchi-chan =]