Journal
Work Of The Day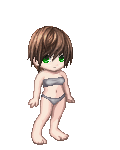 Birthday: 01/01
Wish List
Equipped List
No items equipped.
Interest Tags
Favorite Movies/Anime
Favorite TV Shows
Favorite Reads
Hobbies/Interests
About
Hey guys!

I'm not very exciting so I wont bore you with my life too much! XD Hahaha

However, what I do like may interest some of you ;D I love to role play and will do just about anything you want in one. I love to write stories and poetry and sometimes create art to go with I am writing. I don't know if I am any good but it makes me happy so I don't care :3

I don't have friends that I can hang out with in real life so I do enjoy to come here to meet people that I can talk to and have fun with, even if that fun does completely revolve around a role play.

In real life I am very calm and quiet so when I talk here it is very deceiving to you because I would probably never say this much in person! I do enjoy to talk online because it is so uncommon for me to talk to someone in person, its better than being alone!

I'm always free to accept new friends and have conversations with people or start a new role play! I also don't mind being a stranger for people to talk to, if you need an unbiased opinion please feel free to message me because I am more than willing to talk and try my best to help you!