PhantomZX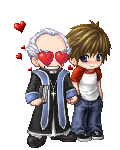 About
So im 22 years old and Play Yugimons!
I have no idea where im going in my life but i hope to get there fast and when i do i will ******** own! Oh and i hate my job!
Friends
Viewing 12 of 36 friends
Journal
Trade Binder
Multimedia
Signature
Mark my words. This drill will open up a hole in the universe, creating a path for those behind us. The dreams of those who have fallen, the hopes of those who will follow, those two sets of dreams weave together into a double helix, drilling a path toward tomorrow. And that's Tengan Toppa. Thats Gurren Lagann.
MY DRILL... IS THE DRILL THAT CREATES THE HEAVENS!!!