About
Art student & Pokemon fanatic.
I'm a goofy, weird, nice person. I also LOVE food.


I go by the name "Tea" on here.
Below is the link to the Profile shop that I purchased my customized profile from.
Phoenix is an amazing designer as well as a lovely gal! I highly recommend
her for any profiles in need!





For cute chibi/anime style art, I suggest you go to the link below.
It's a joint art shop so there are many options of art styles to choose from as well as artists. Lenty did an amazing job on my chibi.
She's a pretty interesting person to chat with as well!

Friends
Viewing 12 of 141 friends
Journal
Tea's Fantastical Journal: )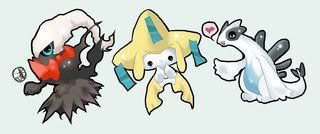 Multimedia
Signature