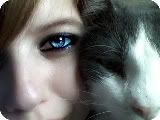 "Hold to the love that you know. You don't have to give up to let go."




Hello there.
Let me lay down the basics.

I have a name, but it happens to be unimportant.Obviously I am a

female

, don't question that.Age is but a number, and mine is

nineteen

.School is important, especially when you are a

graduate.




"I know I can't escape
I'm trapped by fate
My life needs to take shape
Til then I'm lying in wait

I can't help what goes on
Though I try to take control
But the future can't be drawn
Its not like its been written on a scroll."

Comment me.