About
Beggars, Hackers, and Drama queens...Oh My!
(Die a horrible death of a cereal killer! *throws cereal*)

Hola. Bonjour. Hello.
I ish the Pengii.
Fear me.
No really. Do it. Nao.

Just kidding.
I am actually really nice.
Most times.

My name is Amber.




Music.
Really? It's such a powerful thing.
Almost everyone has a song
for each mood they have.
I know I do. Happy. Sad. Angry.
Its really does make our world go round.

It is an essential part of life.
At least my life.
I think to have no music,
would be to have no souls.
The world would be empty.




Age?
Sex?
Sex Pref?

Uhhh.
23, almost 24 in July.
Sure.
And...well, I prefer to have it.
>w<
I am so funny.
I am a female, and I am bi-curious.
Whatever that means.
I always just thought it was bisexual.
Apparently not. Either way...to me...
I lick both sides of the Gender lollipop!




I am such a Sally.
Just a Ragdoll.
I get mended, but no matter
what, I almost am always
in danger of catching that
one loose thread on the branches
of life, getting torn apart so fast again.
I make mistakes.
I am a disappointment.
I ruin everything.


Crazy.
Drunk on the liquor of imagination,
I am an artist, struggling to make
at least one person happy in this life.
(This life being Gaia.
You don't like my art:
Bite me.)



Hopeless Romantic.
I believe sex is a special thing.
I believe in trusting and loving
someone before surrending
your body to them.
Am I a virgin?
Not that its your business, but
no, I am not, and that was
my mistake.
I seriously believe in being in love
or at least trusting and caring
about a person before sleeping
with them.


I sing.
I dance.
Like a dork.
In the shower.
And in bed.
Spinning in chairs.
Car-dancing.
Shake it like a salt shaker.
Yeaaaaaa...you will NEVER see that
Insanity.

Perfection truly is a myth.
Something that only Jesus achieved.
And that none of us can even
imagine achieving. Its impossible.

I am no exception.
Just another mortal on this
thing we call a planet.
I am flawed.
I make mistakes.
But hey, we do that...Perfectly.
And besides, what the hell
fun is it, if no one has flaws?
Then we have nothing to laugh at.
LOL.
I laughed.
At myself.
Laugh at me too.

Personal styles rock.
Be you.
I am me.
Klutzy, romance lover, bookworm.
Me.
Don't like it.
GTFO!



Penguins.
Greatest things ever.
Cute.
Waddly.
I love them.
They are so amazing.
And they believe in one mate.
Completely monogamous.
Turn Twilight people into Penguins.
You would really have
Unconditional Love.



I am still a kid inside.
I believe in everything
we are meant to forget when
we grow up. Fairies, dragons,
and unicorns...why not?
Someone had to have seen
something to want to write about it.
Yes?



I like cartoons.
I like kid shows (some).
I love playing with my food.
And I get excited when
its passed a certain time
of night.

Hide and Seek is the best game still.
Play doh is still fun.
Beanie babies decorate my room.
Toys R Us is my hang out
from time to time.
I have more fun playing
with a 3 yr old, then hanging out
with other adults.

I do not do drugs.
I smoke only when stressed
to a point that if I do not
do at least that one bad
thing, I will go crazy and break something.
Its happened.
When my dad left me and my mom.
I like the crush cigarettes.
Just to squish the little
menthol balls inside.
(Hey, gotta squish a ball
sometime in your life,right?)
I drink on special occasion.
I waited til I was legal.
I hate beer.
Hawaiian Punch and Vodka.
Bad mix. Trust me.





My Anti-drug Drugs:


Peanut M&Ms.
Mountain Dew (almost any flavor)
Monster Javas.
Dill Pickles.
Skittles.
Pocky.
Gummy worms or bears.
Oreos.
Cherries.



I really love to read.
LOVE.
To read.
Get it?
No?
I FRICKEN LOVE TO READ!
I will read almost anything
that is in a fantasy type selection.
Anything Interesting.
My manga takes up that interesting catagory.
I have a good 3000 dollars of manga,
but that just means I am behind compared
to those really into manga. To my family
though, it is way way a lot.
Yes, I do read Twilight. Big Deal.
I also love
Harry Potter
Lord of the Rings.
Anne Rice (Vampire Chronicles mostly)
Laurell K. Hamilton (Anita Blake, Merry Gentry)
Kelley Armstrong (Women of the Otherworld)

So if you have made it this far, you
can see sorta what kind of person
I am. You don't believe any of it?
Or do you need to know more?
Just PM me and ask.
I don't bite.
Hard.
PengiiPop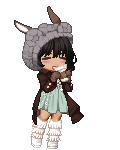 Registered: 03/25/2009
Wish List