GTFOutta here with that kidshit .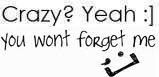 | Purple | Music | 8th grade | Family♥ |

My name's Leslie(:
Justin is my chaaank

;D<3


Stop hating .
California is my home.
February 6'th is the day to buy me something I'll like. Winter/Summer are my most enjoyed seasons.
My sister's are my heros

<3


Music is my everyday thing, I couldn't live without it.
I have a cat named,Zero.
At first I might seem like a total Biiittcchh but when u get to know me I am a very unique person;]
Live the moments you can't put into words.