About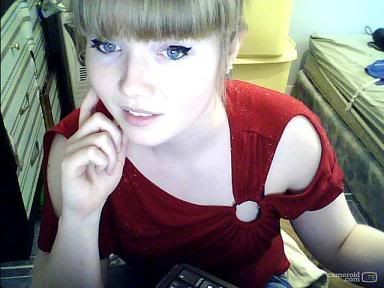 thats me



info <33;
alright, so. my name is natasha (:, i am 21 & my birthday is on november 27th <3 , and i live in Ontario. <33. im single </3 /boooright?. id like to say im normal, but thats not so, i am very unique in better words, i really dont know how to explain me, ;p. i guess you can say i have trust issues, had my heart broken one too many times. dont really know if love even exists, seems like its all games but when i do trust you, i forgive too easily, caant win either way

.im currently in school to be an rpn, then hoping to work in a hospital. maybe in the states, not really sure so many options now.

... i love helping others, <3.
i have been on this site since about late '05. all in different accounts, and banned for "buying/profitting from hacked items" ofcourse, i had no idea.
but im not to worried about it.
im very happy with what i have now <3
i will eventually quest it all back.

...if i feeel like it.


so i decided that i should have an avi made , so i made onee, i like eeeem so whatevaas <33


;; completed <3

next ;; xo




Total Value: 1,760,370,249 Gold
After Exclusions: 1,677,870,600 Gold
[Item Information]

Item List:
Lex\'s Dark Gloves

Golden Laurels
Angelic Pendant
Mythrill Halo

Dark Halo

Great Old One

Devil Tail
Fallen Wish 4th Gen.

Noel\'s Gift

Golden Wings

Noel\'s Gift

Midnight Club
Scandalous Starlet\'s Lingerie

Orange And Yellow Reversible Hair Pins
Panda Slippers

Lovely Lucie
Mini Nitemare Wings

Panda Hat




bought -


donated -


questing -

Fit hit the shan

belongs to me, and only me (: <33 so hahahahah, i win.

[i]hmmmm betttaaa not.

ill add more as i think of it. hahaha.
the doonts; <3
dont send me a pm requesting donations, i dont donate to beggars.
dont randomly add me, ill decline if i dont know you.
thanks

<33
donate-r's

an anonymous benefactor - chicky slippers.

Captain-Ryan- 35k

The Kinky Cracker - 50k

sorry too slow v2 - 1000k

Studio DJ- 350k, Pink bunny slippers, Imginary friend 1st gen, Pink neko display , Lala the koala plushie, Alrunette

Sephirothman- may 2005 x2

th3 k1d- 1100k

The Kinky Cracker- Noel's gift 5th gen , 50k

ps, for anyone else that has donated, im sorry i dont remember, my whole profile was erased and not by me. so if you donated, let me know

and ill add you.

[/i]
Friends
Viewing 12 of 81 friends
Multimedia
Signature

i make signs,[url=http://www.gaiaonline.com/forum/sign-shops-requests-contests/paranoids-sign-shop-xox-open-3/t.91312349/ ][maah new shop] <3[/url]
"don't be afraid of change. you may lose something good but you might gain something better"
[/i]