About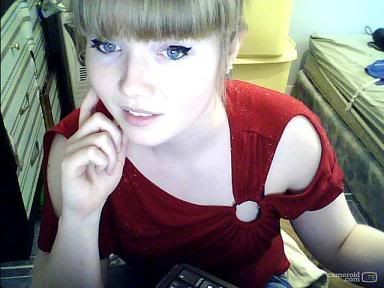 thats me



info <33;
alright, so. my name is natasha (:, i am 21 & my birthday is on november 27th <3 , and i live in Ontario. <33. im single </3 /boooright?. id like to say im normal, but thats not so, i am very unique in better words, i really dont know how to explain me, ;p. i guess you can say i have trust issues, had my heart broken one too many times. dont really know if love even exists, seems like its all games but when i do trust you, i forgive too easily, caant win either way

.im currently in school to be an rpn, then hoping to work in a hospital. maybe in the states, not really sure so many options now.

... i love helping others, <3.
i have been on this site since about late '05. all in different accounts, and banned for "buying/profitting from hacked items" ofcourse, i had no idea.
but im not to worried about it.
im very happy with what i have now <3
i will eventually quest it all back.

...if i feeel like it.

ill add more as i think of it. hahaha.

the doonts; <3
dont send me a pm requesting donations, i dont donate to beggars.
dont randomly add me, ill decline if i dont know you.
thanks


<33

donate-r's


an anonymous benefactor - chicky slippers.


Captain-Ryan- 35k


The Kinky Cracker - 50k


sorry too slow v2 - 1000k


Studio DJ- 350k, Pink bunny slippers, Imginary friend 1st gen, Pink neko display , Lala the koala plushie, Alrunette


Sephirothman- may 2005 x2


th3 k1d- 1100k


The Kinky Cracker- Noel's gift 5th gen , 50k


Yolo Biatch Niqqa- Peachy Scarf, Wendy's Care, DJ Media Headphones, Valefor Academy, Champion Halls, Mini Angel Wings, Taffy Mini Angel Wings, Violet Devil Tail and The Cherubic Queen of Solair.





Master Jew- Pink Sugar Mini Angel Wings:heart:
Megatronosaurus Rex - Eve's Wings,New Year's Champagne, Fremere's Guard 8th Gen., Lawful Master, S-Pop Club: Taja, Icy Marionette, A New Year, Man'o'War, Diana's Lace, Demon's Prominence, Checkered Terrors, Damaged Duelliste, Rose Saga 2nd Gen., Cassiopeia Sweetheart, Custom Cut Couture, Warm Mysterious Conjuring Braids, Checkmate Abate, Merciless Cook, Simmering Shame, Lavish Perky Trainee's Cute Locks, Zom Bea, Counterfeit Royal, Azure Immortal Veil (2), Counterfeit Admirer (2), Stylish Couture Groom, My Bloody Valentine, Brisk Thoughtful Groom, Raspberry Angelic Bride, Timmy 6th Gen, Summer Bride, Azuramella, Spring Rose, Couture Bride, Juno's Lace, Butterfly's Lament, Princess Estelle, Ghastly Triplet, Neapolitan Pandalita, The Celestial Queen of Solair, Burned Dread, Dark Chocolate, Silkrose Stroll, Ebony Debutante, Fierce Loathing Style, Incubi's Amethyst Wings (2), Incubi's Emerald Wings, Jupiter's Lace, Antique Triplet, Stygian Sham, Ghastly Professor, Brown Bun-Bun Plushie, Asimov, Onyx Bolster Sword, Beach Day, Bunny Flop, Steamgear Desperado, Astra: Rolling Rainstorm, Comet Breaker, Astra: Prismatic Promise, Dark Star Cygnus, Highlander's Promise, Bom Bom The Bunny (2), Trilune's Covenant 3rd Gen., Loathing Style, Golden Uniform, Ornith Schoolboy, She Sells Seashells, Console Marathon, Boundless Space, Starkeeper's Astrolabe, Eminent Gideon, Astra: Rose Breeze, Dumpling the Bear, Dark Crowned Ranks, 11th Anniversary Dark Halo, Astra: Mini Gold Flapping Angel Wings (2), Black Grunny, Lavender Grunny, Elaborate Death, Guardian Shaman (2), Jekyll's Corruption, Calculated Loyal's Reprise, Punishing Tristitia, Early Summer Groom (2), Light Violinist's Soft Wavy Locks, Oh Calm Brother & Blackjaxs.




ps, for anyone else that has donated, im sorry i dont remember, my whole profile was erased and not by me. so if you donated, let me know

and ill add you.




Friends
Viewing 12 of 84 friends
Multimedia
Signature

"don't be afraid of change. you may lose something good but you might gain something better"
questing: athenas rose headband - 10b/lmp:emo: