About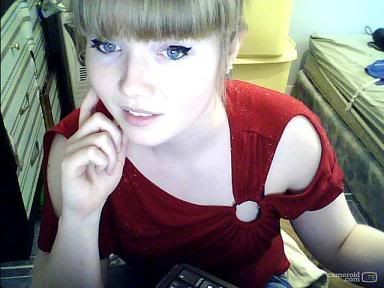 thats me



info <33;
alright, so. my name is natasha (:, i am 21 & my birthday is on november 27th <3 , and i live in Ontario. <33. im single </3 /boooright?. id like to say im normal, but thats not so, i am very unique in better words, i really dont know how to explain me, ;p. i guess you can say i have trust issues, had my heart broken one too many times. dont really know if love even exists, seems like its all games but when i do trust you, i forgive too easily, caant win either way

.im currently in school to be an rpn, then hoping to work in a hospital. maybe in the states, not really sure so many options now.

... i love helping others, <3.
i have been on this site since about late '05. all in different accounts, and banned for "buying/profitting from hacked items" ofcourse, i had no idea.
but im not to worried about it.
im very happy with what i have now <3
i will eventually quest it all back.

...if i feeel like it.


so i decided that i should have an avi made , so i made onee, i like eeeem so whatevaas <33



next ;; xo



Human C Potion
OMG

A\'s Sketchbook (Braided Hair)

Princess Manner (oishiii~)

Golden Laurels
Angelic Halo
Aye Aye Bonnie (Sail Dress)

Vagran Sea (Stockings and Shoes)
V\'s Sketchbook (Arms)
Devilish Wings

Devil Tail



bought -


donated -


questing -

Fit hit the shan

belongs to me, and only me (: <33 so hahahahah, i win.

[i]hmmmm betttaaa not.

ill add more as i think of it. hahaha.
the doonts; <3
dont send me a pm requesting donations, i dont donate to beggars.
dont randomly add me, ill decline if i dont know you.
thanks

<33
donate-r's

an anonymous benefactor - chicky slippers.

Captain-Ryan- 35k

The Kinky Cracker - 50k

sorry too slow v2 - 1000k

Studio DJ- 350k, Pink bunny slippers, Imginary friend 1st gen, Pink neko display , Lala the koala plushie, Alrunette

Sephirothman- may 2005 x2

th3 k1d- 1100k

The Kinky Cracker- Noel's gift 5th gen , 50k

Yolo Biatch Niqqa- Peachy Scarf, Wendy's Care, DJ Media Headphones, Valefor Academy, Champion Halls, Mini Angel Wings, Taffy Mini Angel Wings, Violet Devil Tail and The Cherubic Queen of Solair.




Master Jew- Pink Sugar Mini Angel Wings:heart:
Megatronosaurus Rex - Eve's Wings & Blackjaxs


ps, for anyone else that has donated, im sorry i dont remember, my whole profile was erased and not by me. so if you donated, let me know

and ill add you.

[/i]



Friends
Viewing 12 of 83 friends
Multimedia
Signature