-PaleontologicalNonsense-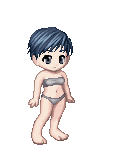 Last Login: 03/24/2012 4:44 pm
Registered: 07/29/2006
Gender: Female
Equipped List
No items equipped.
Interest Tags
Favorite Movies/Anime
Favorite TV Shows
Favorite Reads
Favorite Music/Bands
Hobbies/Interests
About
Hello, this is the Gaian formerly known as "Cat~grim~Reaper".

Until I am able to change my profile to match my new name ("-PaleonotologicalNonsense-") I am leaving the 'About me' section area blank until I can make it less lame o:

I am also looking for something with Dinosaurs as a profile layout, so stay tuned for a major change 8D;;
Signature
I have a Drome raptor.
His name is Moc.



Moc gets hungry.
Please pm me and feed Moc.
Otherwise I can't guarantee that you'll still have your face.
c:
People who've fed Moc:

9

*.*!