Me!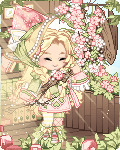 Last Login: 07/03/2015 4:02 pm
Registered: 10/23/2004
Gender: Female
Location: If I am online, at my computer. If I'm not... outside your room. 8D
Birthday: 03/15
Occupation: Chasing lawn gnomes.
Interests
Favorite Movies/Anime
Favorite TV Shows
Favorite Reads
Favorite Music/Bands
Hobbies/Interests
Wish List
About
A little about me:

I have my Master's in elementary teaching, and I'll be subbing while I wait for openings in my school district.
I have a wonderful and loving fiance. He's on the unicorn next to me there. We've gone on all kinds of adventures together. XD
I love tomatoes, but I don't like ketchup. Fresh tomatoes are the best, though.
My favorite weather is cool but not cold-- warm enough to be comfortable on a walk, but cool enough that I don't feel sticky afterward.
My favorite holiday is a toss-up between Halloween and Christmas.
I enjoy reading, drawing, and relaxing outside.

There are lots of things I will do on Gaia:
1. Hanging out in the flash spaces-- I actually forget I have that window up sometimes. XD
2. zOMG! Well, when it's up and running, I do like to run around and destroy things with my Rings of Power.
3. Hanging out in the forums-- You can usually find me in the GCD.
4. Chat with anyone-- I don't care if you look like a newbie. If you come up to me with the intention of having a nice conversation, you got it. If, however, you just want to butter me up and then ask for donations (hey, it's happened), please try someone else.
5. Tell you what an item is that I'm wearing-- My equipped list is not viewable. Send me a message if you're curious about something! I won't list every item on my avatar, though.
6. Trick-or-treat! Seriously, if they bring this back into Towns 2, I am all over that. Christmas caroling, too.

There's a few things I will not do on Gaia:
1. I will not join your Gaia "family." Whether you're a guild or just someone who likes to play house on here, that's not my thing. Family is something I reserve for blood relatives and/or in-laws. Side-note: I don't think highly of guilds that "require" you to change your username.
2. I will not speak to you if you act like an a** to other users. You're not cool.
3. I will not engage in witch-hunts, abuse of other users, staff or otherwise. If Gaia is really the most important thing for you to worry about, you need to reevaluate your priorities.
4. I will not give you my skype. I don't know you, and I make very few exceptions for keeping my Gaia life separate from my personal life.
5. I dislike random friend requests with the burning passion of a thousand fiery... candles. They annoy me. Don't add me if you didn't bother to talk to me (while I was actually there, not afk).

Hey, have a good day, okay?
.~*

*~.
Signature

Forever my favorite. Even in my adulthood.
Friend Code: 1161-0258-5319
PM me yours if you want to add me!