Orgasmic Usagi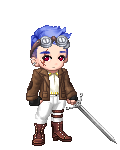 Details
Location

San Antonio,Tx

Occupation

Senshi of doom

Gender

Female

Birthday

06/27
---
Interests
Favorite Movies/Anime
Favorite TV Shows
Favorite Reads
Favorite Music/Bands
Hobbies/Interests
About
:::11121:::
I am thee Orgasmic Usagi and this is my profile-ness.
I've been on gaia since 05, but I was hacked so I created this little one.
I have a passion of drawing my own manga.
I'm quite an odd one, but the shy one in the group.
Well I use to be shy, now I'm just a flirt.
Can't help but be nice...
Random comments freak me out, but are always welcomed.
I love Animu and Mango :3
I have an uber obsession with Sailor Moon.
I'm a Homo.
And I love video games.
Oh how I love thy Silent Hill.



















Multimedia
Signature