About
Please do not post me a comment thanking me for buying from you, because it's annoying and pointless. I did not choose you to buy from: had someone else posted the item for a lower price, I would have purchased it from them. Thank you.


Thanks for all the votes!





About Me:



26 / F / Canada / Taken
Avid WoW Raider (Horde)
Second Year Uni Student
Art History and Cultural Anthropology Major

Feel free to drop me a line about anything. I like random PM's. :3

Friends
Viewing 12 of 47 friends
Multimedia
Signature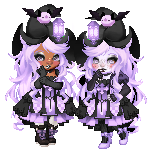 I am the Queen of the AT.
Pistol Kiss is my King.


*Formerly Known as Sparks*