order of justice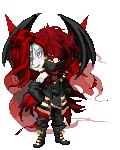 Last Login: 07/10/2015 8:10 pm
Equipped List
Interest Tags
Favorite Movies/Anime
Favorite TV Shows
Favorite Reads
Favorite Music/Bands
Hobbies/Interests
Wish List
About
hi evere won.i like haning out and haveing fun!!!!!!!!!but i don't like meen pepell or bees.
if u want to be friend look up dack jb on fined friends:!:
Journal
the life of Dack
in my jurnal i'm wrihgting about Dack jb and what he like.
Signature
In the battle filed there are few alies and many enimies.