About
Life can be a b***h sometimes, but sometimes you have to just bare through it. Always look to the brighter side of things, because it will always get better. Your situation will always improve. You can't let things bring you down and keep you there. Sometimes you have to move on, sometimes you have to find a new way to look at things.
Really a-
Member Since
09/21/2004
First profile- Invader_Sunny
I have art in the old art arena! Vote for it please!
Check out more of my art at:
invadersunny.deviantart.com
Current Rolays:
N/A
(You've got to understand. I don't get on Gaia too much. If I do join a roleplay I'll get on more often. But if said roleplay dies for two-three weeks, I'll stop getting on and checking since I'll just assume it's dead.)
A "few" of my favorite things:
~First off, I would have to say Ryan favorite of anything and everything. <3
~Hot Anime Guys
-My favorites being: Gaara, Axel, Mori, Shigure, Kisuke, Kyouya and Tamaki
~Hot Guys
-My favorites being: Ryan, Johnny Depp, Gerard Way, and Hugh Jackman.
(There are more though.)
~Being appreciated
~Chocolate
~VW Beetles & Buses
~Lotus Elises
~Cats
~Wolves
~House
~Desperate Housewives
~Fruits Basket
~Wolf's Rain
~Ouran High School Host Club
~Being Generous
~Money
~True Friends
~Pretending people care
~Being loved
~Gracie
~My Chemical Romance
~Panic at the Disco
~Drama
~Hanging out with friends
~Romance
~A good roleplay
~Being right
~Filming
~Drawing
~Sleeping in on Saturdays
(And a lot more.)
Things I Despise
~Annoying child Actresses
-Dakota Fanning
-Rachel Fox
~Lies
~False Friends
~Failure
~Rejection
~Artist's Block
~Assholes (Unless they're hot enough to pull it off, like Hugh Laurie in House)
~Racists
~People that push their religion on others
~Homophobics (Not that I'm homo, I just have friends who are and I don't appreciate my friends being discriminated against.)
~Hypocrites
~Weird spellings of names
~Root Beer
~Licorice
My dream avatar! IT'S AWESOME!! YET....out of reach...so very far out of reach.
Total Value: 379,835 Gold, 2,500 Tickets
[Item Information]
Item List:
Straw Hat
-bought
Dark Halo
Belted Top
- donated the money to buy.
Elegant Black Satin Coat
-given by my sister for X-mas! Thanks!
Gold Mountain Uniform Pants
- bought
Demonbow
Were Tail
-bought, thanks to my donators!
Coal Gunner Boots
-bought
Black Leather Belt
-bought
Celebrity Date
-bought
Chyaku Norisu Scarf
CoCo Kitty Plushie
Whip of Fire
Brown Tribal Torso Tattoo
-bought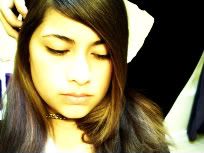 -If there's nothing left to live for, what is there to die for?
-Today is the tomorrow we worried about yesterday.
-May you live a thousand years, and I, one day less, so that I might never know the world without the pleasure of your company.
-A pessimist is a person who has had to listen to too many optimists.
-You can pretend to be serious; you can't pretend to be witty.
-Quotes are nothing but inspiration for the uninspired
-No one can make you feel inferior without your consent.
-I do not want to get to the end of my life and find that I just lived the length of it. I want to have lived the width of it as well.
-The purpose of life is a life of purpose.
-Only a life lived for others is a life worthwhile.
-It is unfortunate, considering that enthusiasm moves the world, that so few enthusiasts can be trusted to speak the truth.
-People never lie so much as after a hunt, during a war or before an election.
-It is planned speeches that contain lies or dissimulations, not what you blurt out so spontaneously in one instant.
-Insanity is doing the same thing over and over again, but expecting different results.
-We do not have to visit a madhouse to find disordered minds; our planet is the mental institution of the universe.
-The first human being who hurled an insult instead of a stone was the founder of civilization.
-Every man has his secret sorrows which the world knows not; and often times we call a man cold when he is only sad.
-Depression is anger without enthusiasm.
-I tried to commit suicide by sticking my head in the oven, but there was a cake in it.
-Suicide is man's way of saying to God, "You can't fire me! I quit!"
-Strengthen me by sympathizing with my strength, not my weakness.
-My biggest weakness is my sensitivity. I am too sensitive a person.
-It's a recession when your neighbor loses his job; it's a depression when you lose yours.
-Insanity is knowing that what you're doing is completely idiotic, but still, somehow, you just can't stop it.
~Eeyore, the Emo of his day: (C'mon, Eeyore's cool for a doll in a gay kids show!!)
~Nobody tells me. Nobody keeps me informed. I make it 17 days come Friday since anybody spoke to me.
~After all, what are birthdays? Here today and gone tomorrow.
~One can't complain. I have my friends. Someone spoke to me only yesterday.
-Life is the curse. Sleep is the remission. Death is the cure.
-When asked what he would do if he only had six months to live: Type faster.
-Dream big and dare to fail.
- If we knew only for a moment who we really are, where we come from and where we are going, would something in our world change? Would we wake up from this dream?
Friends
Viewing 12 of 81 friends
Journal
My ramblings
Prepare to face your doom
Want to read my babbling, rambling, and self-contemplations? Then you've come to the right place!
Multimedia
Signature

invadersunny.deviantart.com :: Go there