About


Hi there, How you doing? Well I'm awesome! Lets start with basics,
I'm Michael, yes I am male. I've been on gaia sense 09. I was born
In the year 1992. How old am I? Guess. I adore this website, I can't
seem to tear myself from it. I vend, and collect art, artist? Send me
a message with your work! I'd love to maybe commission you. My gaia
family consists of two Samt03 my mum and my bro, yea we wont get
into him. If you randomly stumbled here, why don't you give me a jingle
via comments! kthanks.



Friends
Viewing 12 of 74 friends
Journal
Awesomness
Multimedia
Signature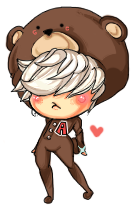 I'm A Guy
My Quest Thread <3
Every Item i wear has been
made from recycled product.