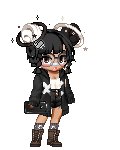 Gender: Female
Birthday: 06/11
Occupation: Newbie Drummer
To be honest, I am horrible at introductions. To start off I was born on June 11th, and currently at the age of

16

17 years old. While then obtaining the educational credibility of a

junior

senior in high school.
Before you ask about my race, I am indeed Filipino.
My interests outside of the educated curriculum include: reading creepypasta, drawing, listening to music, having a sweets addiction, and other typical teenager antics. For musical values, I have honestly played the piano for about

eleven

twelve years+ and currently learning how to play drums.

The listing of my other interests and distastes could be providable, but incredibly generic to say the least.

Although, the genres of music that I find appealing to me are: Alternative, Electronic/(a), Rock, and a little bit of Indie. On the other hand, movies and television shows range from: anime, action, horror, and childhood memories from the 90's.

Gorillaz, Massive Attack, Radiohead, Monarch, Mae, Coldplay, Imagine Dragons, Daft Punk, Nujabes+Witness, Mogwai+Hammock, Ima Robot, Birds of Tokyo.

As for my arrival on Gaia it technically started around the late year of '07, but got highly addictive around '08-'09. Before this account was established, my 07' and '09 accounts are a contribution towards this website. Unfortunately, they both got hacked.
Nonetheless, I was able to still be on Gaia after a long hiatus for a couple of months.
Contact:

Comment

Private Message