odeko-kun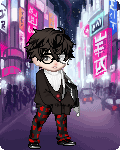 Birthday: 06/06
About
i spend most of my time on tumblr.

i've changed my username yet again; i used to be seasaltsticks and ThatPyroAxel.



things i love are


-Ace Attorney
-Kingdom Hearts
-Ghost Trick
-DRAMAtical Murder
-Shingeki no Kyojin/Attack on Titan
-Free! Iwatobi Swim Club
-Natsume Yuujinchou
-Pokémon
-The World Ends With You

i'm a dumb loser that cries over fanfiction and klapollo.