Oddball T o s h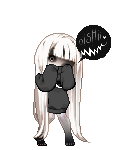 Birthday: 06/02/1994
About
Hello! You can call me Tosh.
I'm a pretty chill person to talk to so don't be afraid to shoot me a message if you want to be friends! =]
I'm twenty years old and I'm going to college to be a nurse! Isn't that exciting?lol not really? okay! =[
I do like anime to an extent...I use to be this huge weeaboo...but I've kinda chilled out on the whole anime thing. =P
I adore the TV show supernatural, I'm caught up on all the seasons!


With both those things being said! I love to role play! =D woot! so hit me up!