About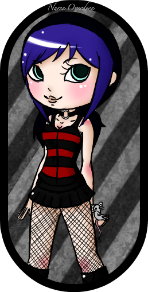 Name:

Elizabeth


Nicknames:

Liz, Lizbeth, Lizzie, Nurse Overdose


Age:

18


Cell Number:

W313A [Ward 3, Room 13, Patient A [my actual room number when I was in a mental hospital]]
✖✖✖✖✖

"I don't know where I'm going from here, but I promise it won't be boring."
-- David Bowie
"Everything's got a moral, if only you can find it."
-- Alice In Wonderland
" "Don't take life so seriously, it's not like you're getting out alive"
-- ???
✖✖✖✖✖
I am:


[✖] An artist.
[✖] A very loyal Plauge Rat
[✖] A proudly single lady
[✖] A medicated bipolar
[✖] Very sarcastic
[✖] Well read
[✖] A Diginerd
[✖] A 'Kitchen Sink Goth'
[✖] A history fan
[✖] An Insomniac
[✖] A judgmental person
[✖] A corsetted girl
[✖] A huge fan of tattoos and I have one too
[✖] An avid supporter of LGBTQ
[✖] Very picky about who I get along with
[✖] A worshiper of David Bowie and Ian Curtis
[✖] A collector of Monster High Dolls
[✖] A fan of 80's pop
[✖] A girl who will forever watch her childhood cartoons
✖✖✖✖✖
I listen to:


[✖] Emilie Autumn
[✖] David Bowie
[✖] Joy Division
[✖] Gary Numan
[✖] The Smiths
[✖] The Velvet Underground
[✖] Siouxsie and The Banshees
[✖] The Cure
[✖] The Horrorpops
[✖] Depeche Mode
[✖] The Talking Heads
[✖] Bauhaus
[✖] Nine Inch Nails
[✖] Amanda Palmer
[✖]

And much much more . . .
✖✖✖✖✖
So I'm 18 and a 'kitchen sink goth'; meaning I can't be narrowed down to one sub-genre of the sub-culture [hence the kitchen sink term above]. If I had to attempt to label myself it'd be a trad-deathrocken-punktorian with random tenancies. It's not so easy to label ones self. But I'm all for it since it helps you meet others like you.
✖✖✖✖✖
Journal
The Nurse is Speaking!!!!!!!!!
a written documentary on myself
Signature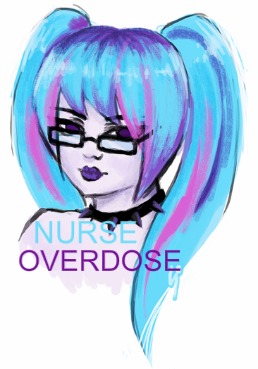 Liz

||

18

||

Female

||

Cell

W18A
Frequently Spotted In:
Barton Town
Art Freebies
Gaia Aquarium
Is Questing:
ಠ_ಠ GOLD MOFOS
FYI:
- Loves RP invites
- Has 2 pet rats
- My
Tumblr
- DFTBA