About
~~Welcome to my profile~~


I will be glad if you post on my profile. You want to know more about me? Everything you should know about me you will get by talking with me. If you want to be in my friend list you should know me better,talk with me, post on my profile and the most important thing is

I need to like you

.




Please visit this places and speciously my Flowers quest thread and help me to make my dream come true! More to read there =D



Click on this cat to see my picture!!


~~Things I like~~

funny and friendly people


chocolate


ninjas


Gaara


*SMOCH*


gwees


sleeping


water


donatiors


avatar arts


racoons




~~Things I don't like~~





beggers,stinky people,bastards,...


spiders


livers


school


brown


layers


when katana is growing in MP


n00bs


fakers...


livers


people....



~~~Avatar arts~~~


SEND me your avatar arts for my avatar!! I want them really bad!

*Click on image to see art*







Lovely art by EriaTheWaterCharmer

More avatar arts in my journal <3
~~QUESTING~~

Total Value: 4,777,845 Gold
[Item Information]

Item List:
Alruna\'s Rose
CoCo Kitty Plushie
Ancient Katana
Dark Halo
Subsonic Silver Hoochie Top
Crossed Belts
Soft Black Underwear
Black Stockings
Charred Tundra Boots
Demonic Pendant
Gills
Oculus Magica
Steel-plated Ninja Band











*refreshing every 10k



Please help!


List of people who helped me a lot and made my day happier



GuesWho42


Ultimate Nova


SweetMiserie


Xhalo_Pee08


Arianias


sour_kitty


republik-of-kosova


iPsycho___x3


List of my charites



:domo: Ultimate Nova :domo:
:domo: TinkerBell0427 :domo:
:domo: Nony-chan93 :domo:






LINKS OUT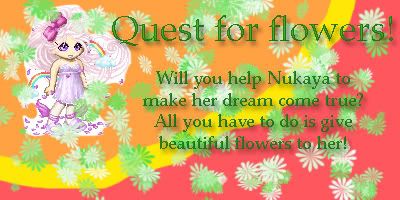 Friends
Viewing 12 of 55 friends
Journal
Nukaya-gaara's Journal =D
Most my dream avatars! <3
Multimedia
Signature
Collecting bugs... Send trade ;D