Nuit_Douce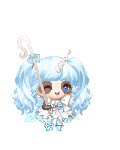 Location: Here and there. Lately more here than there, but sometimes more there than here.
Occupation: Time Traveler
Equipped List
Interest Tags
Favorite Movies/Anime
Favorite TV Shows
Favorite Reads
Favorite Music/Bands
Hobbies/Interests
Wish List
About
Right. Well, I'm Nuit. I'm older than I look and far older than I'd like to be, yet still not old.
I can almost sort of once-upon-a-time kind of read/speak French, but it's been years since I've taken classes and the words weren't solid to begin with.
Pokemon is my favourite thing, with Jigglypuff being my favourite pokemon.
Really, I tend to lose myself in fictional worlds which change intensities with the lunar cycles.
I've been told I sound like GLaDOS. Take that as you wish.

...There's not much to say, I'm a boring person.
Journal
From Nuit's Universe
If you look sideways, you'll see an entirely different picture. Unless your closing you're eyes, in which, you'll see nothing at all.....
Signature