I am seventeen years of age. Art is my hobby. I am gender-queer, but if you take my body into account I would be considered a lesbian. I do not care what pronouns you use for me. I have a wonderful girlfriend.
I'm an shy and awkward person who has social anxiety. I'm a bit of a shut in. I suffer from depression and PTSD, but I generally act in a cheerful and friendly manner. I tend to make jokes about things that may be dark or cause others to be uncomfortable. Please tell me if something I say makes you upset or uncomfortable as I do not wish to do so!
Feel free to talk to me. I am the kind of person that does not make contact first, but PMs and chats make me happy. If we are not already on eachother's friend lists feel free to friend me after talking. I usually do not accept random friend requests.
∘∘∘∘∘∘∘∘∘∘∘∘∘∘∘∘∘∘∘∘∘∘∘∘∘∘∘∘∘∘∘∘∘∘∘∘∘∘∘∘∘∘∘∘∘∘∘∘∘
☽
∘∘∘∘∘∘∘∘∘∘∘∘∘∘∘∘∘∘∘∘∘∘∘∘∘∘∘∘∘∘∘∘∘∘∘∘∘∘∘∘∘∘∘∘∘∘∘∘
⁂Extra⁂
Hobbies and interests:
drawing, painting, gaming, manga, anime, alternative fashion(Lolita, Pastel Goth, etc), and the sciences.
Favorite Bands/Artists:
Kyary Pamyu Pamyu, Skrillex, Melanie Martinez, David Bowie, Sim Gretina, Staind, Studio Killers, System of A Down, Gorillaz, Muse, Phoenix, Coldplay My Chemical Romance
Favorite TV Shows
I Love Lucy, My Little Pony Friendship is Magic, Steven Universe
Favorite Anime/Manga
Hunter X Hunter, One Punch Man, assorted Yaoi and Yuri titles...

Favorite Videogames
Pokemon, Animal Crossing, The Legend Of Zelda, Bravely Default, Dragon Quest, Rune Factory, Splatoon
Super excited for Sun and Moon. ;v;
Level of Education
Stressed out College student
-Attending for high school diploma and AA Degree
-Hates the public school system with a passion
-Is
not
an amazingly smart kid who got into college early

~Thank you so much for helping me out mom, Posh, Kell, Stacy, and GlitterQueef for helping me with my wishlist~


If we become close friends we should totes Skype and play Animal Crossing together.

∘∘∘∘∘∘∘∘∘∘∘∘∘∘∘∘∘∘∘
Shameless Self Advertisement
∘∘∘∘∘∘∘∘∘∘∘∘∘∘∘∘∘∘∘
If you are a lesbian or a girl attracted to other girls you should join my guild. The rules are lax, and I'm hoping to create a friendly community.
I'm looking for more crew members
. The guild is currently very inactive.
↓

↑
→
Recruitment Thread
←
∘∘∘∘∘∘∘∘∘∘∘∘∘∘∘∘∘∘∘∘∘∘∘∘∘∘∘∘∘∘∘∘∘∘∘∘∘∘∘∘∘∘∘∘∘∘∘∘∘∘∘
☽
∘∘∘∘∘∘∘∘∘∘∘∘∘∘∘∘∘∘∘∘∘∘∘∘∘∘∘∘∘∘∘∘∘∘∘∘∘∘∘∘∘∘∘∘∘∘∘∘∘∘∘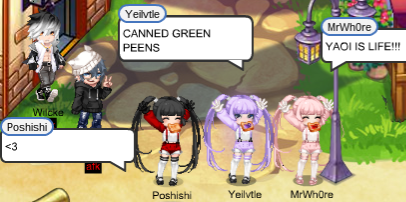 ∘∘∘∘∘∘∘∘∘∘∘∘∘∘∘∘∘∘∘∘∘∘∘∘∘∘∘∘∘∘∘∘∘∘∘∘∘∘∘∘∘∘∘∘∘∘∘∘∘∘∘
∘
∘∘∘∘∘∘∘∘∘∘∘∘∘∘∘∘∘∘∘∘∘∘∘∘∘∘∘∘∘∘∘∘∘∘∘∘∘∘∘∘∘∘∘∘∘∘∘∘∘∘∘
∘Profile Music: In love with a ghost - flowers∘
∘Profile code: Adapted from
Gaiatool/Saxophone
∘
∘Profile Background: swamptrog of tumblr∘