NoGoodKing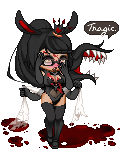 Details
Gender

Female

Birthday

05/03
---
Interests
Favorite Movies/Anime
Favorite TV Shows
Favorite Reads
Favorite Music/Bands
Hobbies/Interests
About

Hi, I'm Moose.

Cosplayer, Artist, and Hermit Extraordinaire.

I am 22 years old and enjoy survival horror and weeaboo s**t.

I have hopeless crushes on Alucard and Dandy.

Sometimes I like to draw silly stuff and I spend entirely too much time on Fallout NV.



Let's be friends!



Also down for art trades~

Journal
This. This is a Journal.
Multimedia
Signature
"This thing claims I have mail!"