Nocturne_Shadow_Mage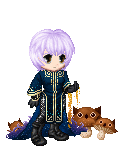 Last Login: 02/23/2012 8:54 pm
Registered: 09/09/2003
Gender: Female
Location: A state that believes in football, beef, and corn, but mostly football.
About
I'm a student, recently transferred to the culinary arts program at a local college with the hopes of getting a degree in pastry. I'm fond of anime, video games, cooking, cosplay, and playing musical instruments, especially piano (but I also play stick and mallet percussion, electric bass, pennywhistle, French horn, and I'm currently learning alto saxophone).

I'm fairly sociophobic, except for the occasional anime convention. My Myers-Briggs type seems to fluctuate between INFP and INTP nowadays, and I haven't retested my enneagram recently.

"L33tsaber" is my name on most sites and forums.

http://l33tsaber.livejournal.com
http://l33tsaber.deviantart.com
http://www.youtube.com/l33tsaber


I am currently (actively) playing:

BlazBlue: Calamity Trigger
The Lord of the Rings Online (free-play)
LittleBigPlanet 2
Auditorium HD



I still need to beat/on hold:


Ace Attorney Investigations: Miles Edgeworth
Baten Kaitos: Eternal Wings and the Lost Ocean
Dance Dance Revolution Extreme 2
Final Fantasy VII
Final Fantasy Tactics Advance
Golden Sun: The Lost Age
Gunstar Super Heroes
Half-Life 2
Hotel Dusk: Room 215
ICO
Kingdom Hearts: 358/2 Days
Legend of Zelda: Ocarina of Time
Legend of Zelda: A Link to the Past
Legend of Zelda: Oracle of Ages
Legend of Zelda: Twilight Princess
MegaMan Zero 2
The Secret of Monkey Island: Special Edition
Shin Megami Tensei Persona 3 FES
Star Wars: Knights of the Old Republic
Sly 3: Honor Among Thieves


I have purchased but haven't started:

Assassin's Creed
BioShock 2
Half-Life 2 Episode One (via Orange Box)
Half-Life 2 Episode Two (via Orange Box)
Team Fortress 2 (via Orange Box)


I have beaten:

5 Days a Stranger
7 Days a Skeptic
Trilby's Notes
6 Days a Sacrifice
Batman: Arkham Asylum (main story and riddles solved, no challenges yet)
BioShock
Chrono Trigger
Golden Sun
Katamari Damacy
Kingdom Hearts
Kingdom Hearts: Chain of Memories
Kingdom Hearts: Re: Chain of Memories
Kingdom Hearts II
Metal Gear
Metal Gear Solid
Metal Gear Solid: The Twin Snakes
Metal Gear Solid 2: Sons of Liberty
Metal Gear Solid 3: Snake Eater/Subsistence
Metal Gear Solid 4: Guns of the Patriots
Okami
Phoenix Wright: Ace Attorney
Phoenix Wright, Ace Attorney: Justice For All
Phoenix Wright, Ace Attorney: Trials and Tribulations
Portal
Psychonauts
Shadow of the Colossus
Sam & Max, Episode Four: Abe Lincoln Must Die!
Sly Cooper and the Thievius Raccoonus (84%- Defeated Clockwerk. All pages found. Master Thief Sprints: 1)
Sly 2: Band of Thieves (Defeated Clock-La. One safe opened.)
The Wonderful End of the World
Journal
Noccy's Journal of Doom... and really bad fanfics.
Well, this is where you'll find everything you need to know about a bad fanfic author who has a boring life in a boring town. If you all bow down very nicely, I might even sneak in peeks of my humorfics...