Niyaru Delacroix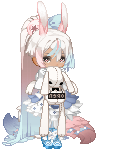 About




I am a twenty three old fresh out of college with two associate degrees. I have been called many things through out the years though the following nicknames have stuck; Haru, Harumi, and Niya. You may call me by one of the various nicknames listed or if we know each other on a more personal level, you have knowledge of the other two nicknames I can be called.

I live in a small city in Kentucky that not a lot of people have even heard of, including residents that live around it, strangely enough. I have a love and hate relationship of the city where I have lived up to this point. I hope to be able to move out of state as soon as I possibly can. I love how I can go outside on my front porch and take an amazing photograph of the clouds yet I feel as if I've outgrown it.

Music has been my lifeline, it has been a huge part of what has kept me grounded through the years. In 2009 when one of the two people I could rely on was suddenly taken from me, it became a crutch. Music, reading, and writing became my life and it was a huge help or at least I'd thought so until last year (2014). I realized just how depressed I was and how I had been lying to myself. I won't hide the fact that I have anxiety and depression, I'm not perfect, I'm human too.

I listen to music every chance I get, it helps me feel better when I get upset, scared, mad, etc. I have become obsessed with anime and art, foreign culture and cuisine, and even drawing and creativity. I have made it a mission upon myself to be more open to new experiences, try new things, meet new people, make new friends and do things I wouldn't have done before all the chaos.

Life shapes us in my opinion and despite the things that have happened and not knowing the reason behind them, I still try and make others smile, do good things and lend a helping hand. Don't be afraid to message me just because I have written a wall of text. I've done this not just to prove that I can do more than just a few details but to let you (whoever you might be) know that I'm not perfect. I have issues and make mistakes just like you do/can but it doesn't stop me from doing things I love in life (photography, writing, music, etc) and it shouldn't stop you either. I know how hard it can be, how tired you can be from all the sadness and hurt, feeling like no one cares and that you would be better off alone. Don't listen to the voices, don't give in to the negativity, surround yourself with things you love, be honest with yourself about who you are and what you enjoy.

I am a furry who loves pink and white things probably more than I even should but I don't care. I love anime and girly things even though I don't have the courage yet to wear frilly and feminine things in life. I make characters/ personalities online to express myself and my feelings of wanting to come out with my girly side. It's okay to be shy, embarrassed, whatever it may be, just take your time to figure things out and do things at your own pace. Don't let anyone influence you or your decisions, it is your life and you should be able to live it how you choose.

I'm friendly and open minded, feel free to message me if you want to be friends or just want to have a conversation.
Friends
Viewing 12 of 90 friends
Journal
Haru's Notes
My lovelies!
Multimedia
Signature

2016 goals:

-rp
-work on characters
-drawing practice
-learn shading
-learn highlights
-get a new computer that can handle my creativity
-start a youtube channel
-get new equipment
-get camera to vlog with
-get healthy/get fit
-meet friends from gaia
-learn more recipes