Forums
Posts per Day: 4.32
Total Posts: 9243
GONNAMAYBEGET
BOSS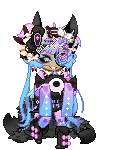 Registered: 07/10/2007
About
Nirrina and i'm 20.

I'm pretty chill but forgetful. That's maybe all you really need to know. I love animals but my chickens are my besties right now. Chickens. Bawk bawk. I keep chickens. I play games, right now i'm frothing over AC3 and Bioshock Infinite which is taking forever coming out. I play Pokemon but I stopped for a bit.

I also draw/practice avi art in my spare time which is free for my friends. Samples will be placed below or in a journal.
I guess in case I open a shop or someone comes looking. And maybe bribes me a bit?
<3
Cough.