Nikko Roseus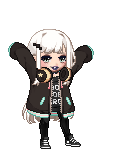 About

name:
Teri
born:
August, 6th 1990
height:
5'3"
about:
first off, I'm taken.

sorry!
I love to draw, play video games, dressing up my avatar in cute clothes and I enjoy eating. one of my favorite foods are plain sheesecake, chips, and sweet things. I'm not a fan of seafood, oh and I love fast food...like wendys~
some video games I have played are: super mario world(snes), kirby super star(snes), KH & KH2(ps2), rayman (ps1), rayman origins(3ds) and the legend of zelda: a link to the past(3ds).

oh and a ton of pokemon games like gold, crystal, ruby, emerald, fire red, colosseum, XD gale of darkness, pearl, heart gold, white, white2, 3Ds mystery dungeon, pokemon X and X2.



My Deviant Art is...
Nikko Takishima



My art shop on Gaia