Nightshade902 aka Precious~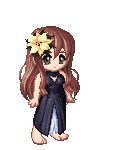 Birthday: 01/18
Info About Me~
Hello, and thank you for visiting me under my moonlight~♥

My name is Precious, and I'm 20 years old it's lovely to meet you if you're reading this that is heh.

I am on Skype,Tumblr and NicoNicoDouga more than I am on here since when I come on here there isn't anyone online. I'll pop by once in awhile to check it out but if not then yea leave a message to chat and I'll get back to you.

I thought about just deleting but I have quite a bit of money so uh...yea maybe I'll blow it or something?