About
-------------------------------------------------------------------------------------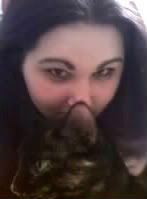 I love to write normally, and have been doing it since as long as I can remember. I have an over active imagination which makes me scared sometimes, and strangely enough my favorite movies are horror movies. It's kind of strange too seeing as how the moves don't scare me, but then sometimes I have really weird, creepy nightmares that will leave me waking up, looking around to make sure nothings watching me.

HA! Gotcha I'm not that weird. Although I do have an over active imagination and can usually make people believe stuff that isn't true. I'm usually an honest person though and pass my time when I'm not working either writing, rping,reading, playing video games, watching movies, playing some occasional Magic, or watching Anime. My favorite genre's are fantasy, horror, historical fiction, and an occasional mystery. I'm not one for the romance novel, they bore the hell out of me, however, I enjoy the occasional romance now and then.
-------------------------------------------------------------------------------------
The way we are,
The way we move,
The sights we see,
The hearts we love,

Cannot compare
Cannot contrast,
To the blood that's spilled,
From a shotgun's blast.
Human behavior,
Pressed against steel,
Unbreakable scars,
Smiles won't conceal.


The words that kill,
The taunts that maim.
Cannot defend,
The shotgun's flame.

-Rossi
-------------------------------------------------------------------------------------
Trapped inside
A world of hate
Feeling weak
Controlled by fate

Life kicks you down
Keeps dashing hopes
As time goes on
Your mind it copes

Dreams of life
Fears of death
Holding on
To one last breath




The one day it comes
Fate loses grip
Your mind goes blank
You start to trip

You realize
It's time to go
There's no more room
For on last show

As you take
The final leap
Your memories
They start to creep



Life starts to flash
Before your eyes
As you prepare
Your final goodbyes

You look at you loved ones
Stare death in the face
You give him the finger
Then spray him with mace

-Hey you in the bushes
Friends
Viewing 12 of 15 friends
Journal
A Journal
Welcome to my Journal
who knows
Multimedia