Nightingale Dream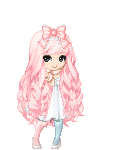 Birthday: 11/29
About
Hello and welcome to my profile ღ

Music is my passion, my life. With that bring said welcome to my life.

My goal in life is to one day tour around the world and preform at warp tour.

I write music.
The genre of my band is metal/rock. On some occasions we will do acoustic.

Bands/People who inspire me

Black Veil Brides
Secondhand Serenade
Blood On The Dance Floor
NeverShoutNever
Christina Grimmie
Shayne Orok
2ne1
CatchingYourClouds
Fit For Rivals
Pierce The Veil
Asking Alexandra
Green Day
Falling in Reverse
A Day To Remember

I love meeting new friends so feel free and send me a PM.