Next Gen Trilby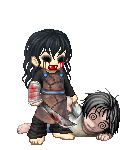 Registered: 12/26/2006
Gender: Male
Location: ...Nope, not telling.
Equipped List
Interest Tags
Favorite Reads
Favorite Music/Bands
Hobbies/Interests
Wish List
About
Whoah.
This place needs a complete overhaul. Scusi!
Journal
Diary of an Antagonist RPer
Things man. Things like you wouldn't believe. Also, embarrassing stuff, but THAT's not important.
Signature
Click here please

Draw my avi, please?

Give clicks to these guys?