Neuras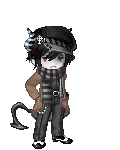 Details
Occupation

Fleet Manager

Gender

Male

Birthday

07/23
---
Interests
Favorite Movies/Anime
Favorite TV Shows
Favorite Reads
Favorite Music/Bands
About
Welcome one and all to my profile, yes yes I know, I'm awesome, but no autographs please!

I have recently returned from an extremely extended hiatus, so this is gonna be worked on over the next few weeks.

Howdy! Salutations! ....other greeting!
Welcome to my profile, slowly putting this thing back together.
My name's Carlos, I live in central Texas.

Hobbies/Interests:
-Reading
-Cooking
-Anime
-Hiking
-Jogging
-Painting
-Building models
-Dungeons & Dragons/Pathfinder
-Drawing
-Writing
-Coming up with drinks for my eventual attempt at a restaurant/bar
-Gaming (PC, PS4, 3ds)
-Taking long walks off of short piers!

I'm the type of guy that holds his friends dear and I'm kinda nerdy, not gonna lie, I'm quite awesome. I'm not shy in the slightest bit, hesitation kind of annoys me, even my own. I'm always looking for new friends, it's a wonderful thing to have people you like everywhere. Drop a message sometime, I mean really, is there a reason that you shouldn't? Talk to you later!

Curious about me, just ask.

Friends
Viewing 12 of 19 friends
Multimedia