Neuras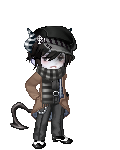 Details
Location

Texas

Occupation

Student

Gender

Male

Birthday

07/23
---
Interests
Favorite Movies/Anime
Favorite TV Shows
Favorite Reads
Favorite Music/Bands
About
Welcome one and all to my profile, yes yes I know, I'm awesome, but no autographs please!
Just to say a little about my snazzy self, I'm 25 years old, puerto rican, live in texas, and am 6 ft tall. Any questions?

My hobbies are but are not limited to:
Cooking, Reading, Gaming, Watching Anime, Jogging, Drawing.

Things I like: Nice people, comments, PM's, avi art, food, friends, family (at times), Dance Dance Revolution, cooking, art, soda, drawing, gaming, anime, manga, playing cards, peppermint bark, embarassing my friends, snow, rain, the ocean, [CENSOR], and [CENSOR]

Things I hate: Mean people, math, big red, veggie food, family (at times), politics, dry weather, military guys, country music, being alone.

Anything else, just ask!

Multimedia
Signature