About
Name:

Washu

Age:

33

Sign:

Pisces

Occupation:

Freelance Artist

Religious Views:

Pagan




Hobbies and Interests:


Drawing, painting, writing, role playing, astrology, music, anime, comics, video games, cooking, gardening, outdoor activities, nature, animals, fantasy, steampunk, renaissance, medieval, survival, being frugal, homesteading, gypsy, magic, psychometry, psychics, love.




Color:

purple and yellow


Art Style:

anime and watercolors


Books:

medieval fantasy and adventure


Music:

I like most music, if it's a good song I'll listen to it. I don't judge by genre.



Anime:

Tenchi Muyo, El-Hazard, Mahoromatic Maiden, Kiki's Delivery Service, My Neighbor Totoro, Spirited Away, Laputa; Castle in the Sky, Whispers of the Heart, Ponyo, (well anything studio Ghibli/Hiyao Miyazaki), Desert Punk, The Original Dirty Pair, Vampire Hunter D, The Master of Mosquiton, Karin, Rune Soldier Louie, Ruin Explorers, Claymore, Fate/Stay Night, Mai Hime/Otome, Brave Story, Ranma 1/2, Ah! My Goddess!, A Snow Fairy Sugar, Magical Shopping Arcade Abenobashi, Armitage III, Azumangah Daioh, Mahou Tsukai Tai, and a ton more I just can't think of! XD hahaha


Manga and Comics: I love Strangers in Paradise by Terry Moore. I used to follow the Rogue comics, she and Shadowcat are my favorite x-men. I don't collect many comics anymore.
Manga I read are Ah! Megami-sama, Tail of the Moon, and others. I just pick up whatever looks good at the library. I've read sooo much I can't remember most of the titles! D= )



Video Games:

Harvest Moon, Animal Crossing, Azure Dreams, Rune Factory, Tales of Symphonia, Tales of Destiny 1&2, Wild Arms 1&2, Thousand Arms, Steambot Chronicles, Lunar SSSC and Lunar Blue, Legend of Mana, Dark Cloud, Star Ocean, Radiata Stories, Sonic the Hedgehog, Grandia, Rhapsody, and my favorite pc games are TES Oblivion and the Sims 3.



Food:

lasagna! And other Italian food as well as Chinese food. I also love shrimp and crab.



Outdoor Activities:

camping, hiking, fishing and pretending I'm lost and need to survive the woods. XD nya-ha-ha





Role-Playing:

I like medieval fantasy role play, with some anthro, more action than romance.



Homesteading:


I'm into being green. XD I like saving rain water, wood burning stoves and fireplaces, gardening, canning my own food, and raising animals. I'd love to have my own homestead one day with an orchard and garden, thick woods stocked with wild turkey, quail and pheasant, and maybe wild pigs. I absolutely LOVE chickens! My favorites being (partridge) cochin bantams.

My homestead animals would consist of my pembroke welsh corgis, a few farm cats, cochin bantams, a highland cow, and kunekune pigs. If I marry a farmer or really rich man, I might have gypsy vanner horses as well.

My art is mostly anime style. I paint landscapes in acrylics, and I do storybook illustrations. I aspire to become a children's book author/illustrator. You can see my online gallery here:

http://nekowashu.deviantart.com

I do take commissions, click the banner below to visit my art shop.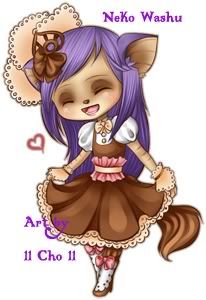 Asian boys, why you no flock to me!?

Let me love you!

Journal
The Catgirl Diaries
Multimedia