Nefouro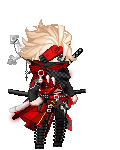 Registered: 11/14/2004
Gender: Male
Location: This land is Earth
Birthday: 05/27/1989
Occupation: Believe It!
My pixilated riches and rags
My future pixels, looks in the future, yep!
What you might want to know about me
Name: David
Some people think i'm imaginary, but I eat 3 meals a day, and drink some water from time to time to strengthen and support myself physically and mentally, and get sleep once a night, that's my life.
Journal
N00bs
How they don't know.
people that rent in this sacred land
Signature
Domesticate me, do it.