Forums
Posts per Day: 10.79
Total Posts: 29996
NDG Krauly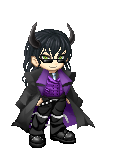 Last Login: 07/28/2014 3:00 pm
Registered: 12/17/2006
Gender: Male
Equipped List
Interest Tags
Favorite Movies/Anime
Favorite TV Shows
Favorite Reads
Favorite Music/Bands
Hobbies/Interests
Wish List
About
there is no much to say about me. I like anime,videogames, Im straight, I know boring sexuality with all this new flavors coming out
I n my taste of music, I like industrial, rock, punk, metal, techno, electronic and some joke bands.
I Was unfairly Ban on my other account cause I received some hot items but I been on gaia for 7 years.
Im now 26 years old a gaia geezer and I like to rp at times and other times just chat. I say Im Semi lit. But since English is my second language my grammar sucks.
Anything else just ask, PM me and we can chat.