Naxton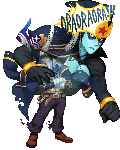 Gender: Male
Birthday: 10/13
About
I'm 24, male. I love video games, anime, dragons, and art. Art takes on many representations for me, I consider music to be a subset of art.
I have a strange and dark sense of humor. I've been told i have the ability to make people laugh. I'm usually rather empathetic and open minded. With that being said I consider myself to be pansexual. I abuse dictionary.com and wikipedia lol. I want to make a graphic novel someday. The topic of anatomy leaves me curious despite me never going that far into science. I have a short memory span but love nostalgia. I have a problem distancing myself from people because I assume most people have evil and selfish means. These means disrupt me in my vulnerable states and leave me with thoughts of vengeance and depression. Also, I'd like to visit Paris, Tokyo, and Seoul at least once in my lifetime. I consider those place to have innovative culture and interesting heritage.

Questions and Comments.