About
xxx
_______________________________x
hi, the name's
nami
.

• i'm 2O, living in germany.
• i like to write in small letters.
• i'm into japanese gyaru fashion & write a blog about it ;http://nami-n.blogspot.com
• i've been on a hiatus from 2O1O to january 2O13, means i have no real clue what's going on here on gaia at the moment.
• my favourite gaian pastime is vending and creating fancy avatars= check out my journal & arena for a gallery.
• my favourite gaian items are the mole & long drag.

_______________________________x
• i was known on tinierme as decoration.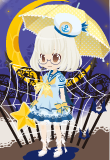 2OO9 - 1O.12.2O12 r.i.p. my dear.
_______________________________x

xxx
Friends
Viewing 12 of 33 friends
Journal
tektek art
♥ gallery of my avatar outfit creations. i really love cluttered / themed ones. take a look. ♥
Multimedia