About
Status:

Refreshing my art skillz OTL




Hello! You've suddenly stumbled on

Nadi's secret portable art shop





Why am I running this in here and not in a thread you ask?



Because I get very random urges to draw

anything

that do not last very long.
So if this was set-up in a thread....I could literally be opening it up for a day then it's be closed for months. etc.
----------------------------------------------------
How does this work?
Here's the deal.... when the following sprite appears in my sig:
Leave the following comment in my profile:
Quote:
I am the bone of my pen.
The canvas is my body and anime is my blood.
Have withstood criticism to draw many things.
Yet these hands may never reach perfection.
But I continue to draw. Unlimited Nadi art.
After which I'll PM you about the pricing & asking about details about what you'd like.

At this point start the trade on your end. (I will update you on progress of the art upon request)

When I'm done, I will PM you watermarked vers of the piece (will be uploaded onto dA unless that bothers you)

If you're ok with it, I will then PM you non-watermarked version ---at this point please complete the trade.



Starting price for any requests is

__K

(may be priced higher depending on complexity of request)

All art will be colored unless you don't want it to be (in which case it'd be half-price of that^)

Check my deviantArt gallery for samples of my style.


The progress list:




-----------------------------------
-----------------------------------
-----------------------------------
my random pets...that I don't have anywhere else to put xD [..........]









Friends
Viewing 12 of 86 friends
Journal
A Demonic Fox's Travel Log Through Time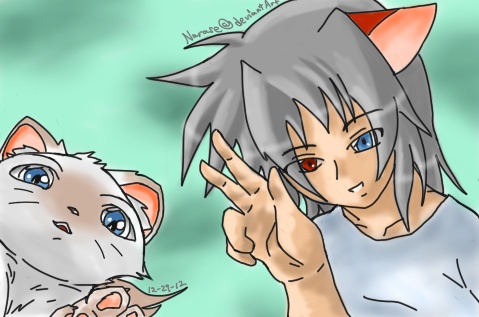 random things in here that I don't want to write on LJ xp
Multimedia
Signature

My deviantArt... RAWR? o3o