運命を制す (unmei wo seisu)
Myu here!
Not my RL name or Stage, just a random one.
I have no reason to reveal myself here.
If I ever do then this account is abandoned,nothing but a shrine haha
Busy with my projects at the moment.
Off/On Hiatus
An old fart On and Off Gaia.
I'm a Woman in my 20's
A Singer/Songwriter/Musician.
Rocker/Diva with a 5 scale octave range, be afraid. Hahaha
I also create Art, Act and Model!
I prefer my Music over my Modeling ANYDAY! Music is my life.
Educated and Cultured woman.
Modest & Down to Earth. Dont be afraid to say HI!
I am NOT a JAPANophile, unlike so many of you here...
I love my Coffee and I love my Tea.
Quit FB, came back to Gaia. More to do, more interaction.
Twitter on Hiatus. Website non-existent ATM. Blah! (its complicated)
Not strange to me to come on this website.
Because, I've been here so long, before I became what I am today.
Love to talk music, modeling, art, lots of things really. Chat me up! Don't be afraid.
(ღ˘⌣˘ღ) ♫・*:.。. .。.:*・
Attractive, Kind, Generous and Trendy.
I like to have my avatar represent me.
I have my own individual style, being an individual and all.
I love the colorful fun and trendy tokidoki style.
I adore Steam Punk and Bohemien esq, when done right.
Tokyo fashion, can be either scary or stylish.
The hottest asian clothing styles, are always amazing it seems.
My Tokyo fashion does not stand out in a weird way,
For those who know the trends, You know what I mean.
I love my, Vera Wang(Love) Dolce & Gabbana, Chanel, Gucci, ect.
If you be my



Ill be your


My heart, always taken.
Oh my Lurv!♥ __|___|__
(づ ̄ ³ ̄)づ Σ( ̄。 ̄ノ)ノ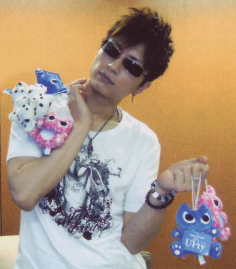 Do I live in one of the most expensive cities in the world, maaaaaybe.