MysticNightmare_01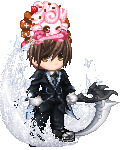 Birthday: 05/21
About
Welcome to my page.
-Age: why does it matter
-Zodiac: Gemini
-Current nation of residence: United States
-Languages: English, Korean, Japanese, and very little Chinese
-Sexual Orientation: Who knows at this point
-Interests/Hobbies: Drawing, reading, singing, voice-acting, translating comics into English, and hanging out with friends
-Personality: Tsundere. Introverted, awkward, and really just kind of weird. Obsesses over fandoms by myself. Doesn't open up to people very often.
Favourite:
-Drink: Taiwanese bubble tea, British black tea, Korean soda pop, and of course- water
-Food: any kind of Seafood or Chinese food
-Song: Secret Base
-Anime: Kuroko no Basuke, Naruto (Shippuuden), Durarara!!, Shingeki no Kyojin, and Hetalia
-Subject: History and biology
-Colour: Black and blue
-Flower: Forget-Me-Not, Hydrangea, and Camellia
-Computer website: Tumblr
-Number: 13

-I am a horrible cook. Never trust me in the kitchen.
-I'm equally bad at any kind of mathematics.
-(physical appearance) Short brown hair. Dark brown eyes. Reddish-brown glasses. Usually seen with a long-sleeved black shirt with the cancer starsign on it, black PE shorts, and vans sneakers.
-Twilight is okay... it's not good, but not bad.
-I dislike Miku from Vocaloid. I just don't like her voice.
-My shipping tastes can range pretty far. I'll ship hetero or homo. It doesn't matter to me.
-However, I'm hesitant to ship furries. Sorry, that's not how I operate.
-I am respectful of others' opinions regardless I agree with them or not.
-I sleep a lot. I also have a tendency to eat a little too much.