Myna5194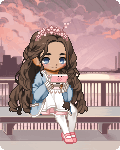 Details
---
Interests
Favorite Movies/Anime
Favorite TV Shows
Favorite Reads
Favorite Music/Bands
About
Call me Myna or Shiki.
Something Eternal.
My Animanga blog.
It is wonderful.
You should visit it.
I like animanga, Pokemon, music, theatre, books, and food.
I hate math, science, bugs, and waking up early.
I'm waiting for warm weather and my Hogwarts letter.
I can draw, sing, and play the piano and violin.