Wish List
Music_Skillet1999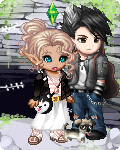 Birthday: 11/10
About
I'm a girl who writes and writes. My stories for my age doesn't seem like they would be by me. I mean I write stories at the level of an adult fiction author. I normally dress my avatar as a story character now and then. I also listen to a lot of music. . . None of that Justin Bieber or One Direction crap. I listen to 30 Seconds to Mars, Disturbed, Skillet, Rob Zombie, look at my music list. I need to get some stuff off, I think, but still. I don't listen to pop really.
I also have three dogs, and I'm an honors student at my school, and I'm an older sibling, so people want to annoy me? Pointless. It's still fun to confuse me still. XD
I also read a lot, I love books. . . And animes. . . Especially the
Anime guys. >////<

I also love Roleplaying and am ALWAYS fascinated by other ethnicities, and often try to learn the language. My name will not be told unless I know you well enough, but I will say I am in my last year of middle school, and am entering High school when the school year ends. And just because I'm young, it doesn't mean that I can't understand things above my age level!

Now, I'm not all sunshine and Rainbows. . . I have standards people. I hate being lied to, especially about the most serious of subjects. I was lied to once, for roughly a month by some one I trusted, and that first night I was lied to, well, pranked, but still lied to. . . I was the worst feelings I could get, so I would appreciate it if no one would lie to me.

I am also addicted to Zumba Blitz on Facebook. . . I don't know why, but a frog shooting a colored ball from it's mouth is awesome.
Interest Tags
Favorite Movies/Anime
Favorite TV Shows
Favorite Reads
Favorite Music/Bands
Hobbies/Interests
Signature
Sneeze On Monday Sneeze For Danger, Sneeze on Tuesday Kiss a Stranger, Sneeze on Wednesday Sneeze for a Letter, Sneeze on Thursday Something Better, Sneeze on Friday Sneeze for Woe, Sneeze on Saturday a Journey to Go, Sneeze on Sunday Your Safety Seek, For the Devil will have you the Rest of the Week.