About
My name is Angie, I am an Inu.
If you want to know more get to know me.
Hurt my friends and you'll suffer for it.
If you're not as good a friend to me as I will try to be for you, then you won't be my friend for long.
If I am not a good friend to you then I am either not comfortable with you yet or you have upset me so that I do not trust you.
If I like you, you'll know...
If I love you you probably won't.
If I hate you you won't see me on your friend list.
If my friends hate you you had better have a damned good reason for me not to.
Make me laugh, comedy is the basis of happiness and the basis of a strong friendship, I'll do my best to do the same for you.
Most importantly pet me behind the ears =_= now would be good human.
Murasakiiro no Inu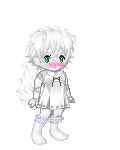 Last Login: 03/08/2014 10:07 am
Registered: 11/06/2011
Gender: Female