About


Hey! I'm Muffin. :3 No, that is not my real name, but that is what everyone calls me on gaia.

I speak English, Japanese, et un peu de francais.

I used to be an active member on gaia, but I left for a long time because I became very busy, a lot of my friends left, and I got tired of it. I was an old GDer, an LI frequenter, and I owned a Minishop and hung out a lot on my friends' threads.

Now, I frequent the art boards. I would like to get back in touch with my old friends and meet new ones.

Please take the chance to talk to me; I love meeting new people!

I am currently on a questing for art of this avi (my usual default):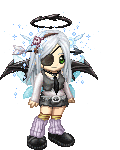 And I use smileys way too much for my own good. >:3
And wow, I really need to change the layout of my profile. The avi art incorporated into it is very outdated, and I would like to change the main colors to blue, black, and white.

<3
Muffin

Friends
Viewing 12 of 26 friends