About

YES, I am a dude.
NO, I am not interested in guys.

Why? Because this world needs more badass chicks who could kick you in the jaw.

And no one has EVER asked me this, but YES, it's a reference to Virginia Woolf!
Friends
Viewing 9 of 9 friends
Signature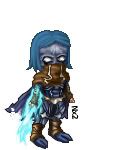 If the radiance of a thousand suns
Were to burst at once into the sky
That would be like the splendor of the Mighty one ...
I am become Death,
The shatterer of Worlds.